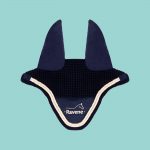 2000
RAVENE FLY VEIL
Takini Boy is very proud to present the latest My Ravene innovation: the fly veil/saddle pad set.
A simple yet elegant navy blue set with two off white cords to show off your companion at home or in competition!
The bonnet's ears are lightly elasticated for more comfort.
Learn more about our saddle pad here!
Marine blue colour with two off white cords
More comfort thanks to elastic ear pieces
Pair it with our blue Ravene saddle pad, for an elegant matchy look
2000
formulas developed by experts
Customised care protocols