This week, we proudly presented to you our new patented technology through our bestseller Emouchine Total.
In this article, we will go in depth on the mechanism of micro encapsulation, our new fly repellent technology, and explain to you how it works!
Emouchine: a range of insect repellent for your horse's protection
Spring is here, the days are getting longer, temperatures are rising, and we all would like to enjoy the nice, sunny days freely with our horses. Because let's face it, it is nicer than riding or even grooming your horse at night and under the pouring rain, by 5°C!
And yet, the summer season also comes with its fair share of troubles… Soon enough, the parasites are back, and so the horses are harassed by flies, mosquitoes, horseflies, flat flies, ticks, and other insects… They can become a real cause of stress and irritation for your horse, making him get on his nerves, and so, keeping you from enjoying his presence in peace. Whether it is a young or retired horse, a sports or leisure horse… the issue remains the same!
Since over 60 years, Emouchine offers a large range of fly repellent products, to allow you to protect your horse. It is now a new technology that we unveil, through the evolution of Emouchine Total's formula.
An innovative fly repellent
Our fly repellent shield gets reinvented through micro encapsulation
So, what is micro encapsulation exactly?
Micro encapsulation consists in locking up the active ingredients in microcapsules.
These two ingredients are extracted from plants:
Lemon eucalyptus
Lavandin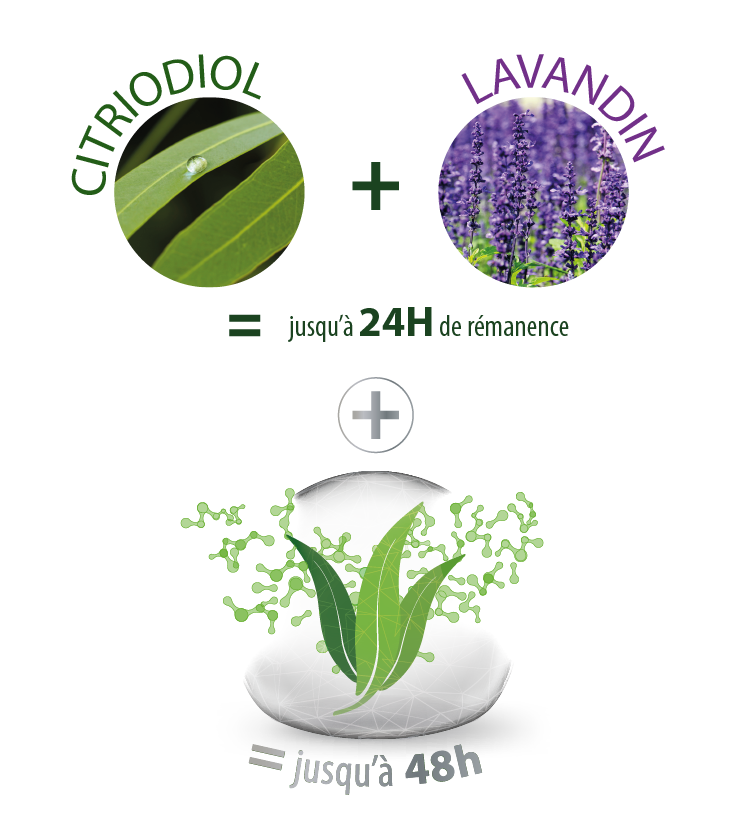 These microcapsules are invisible to the bare eye.
To give you an idea, 1ml of product equals to over a billion microcapsules.
Micro encapsulation, how does it work?
It is so simple! Spray Emouchine Total on your horse's whole body.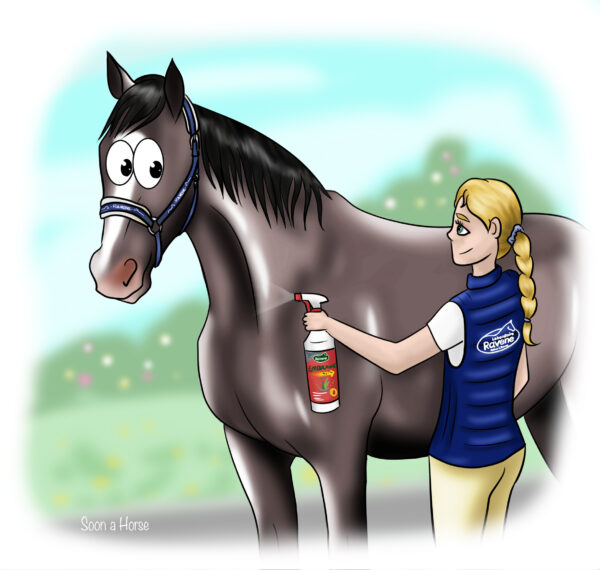 When the solution touches your horse's coat, the microcapsules get firmly fixed on the hairs, as their membranes get hardened by the air. The microcapsules are non-water-soluble. That means that they can resist to the horse's sweat and to the rain.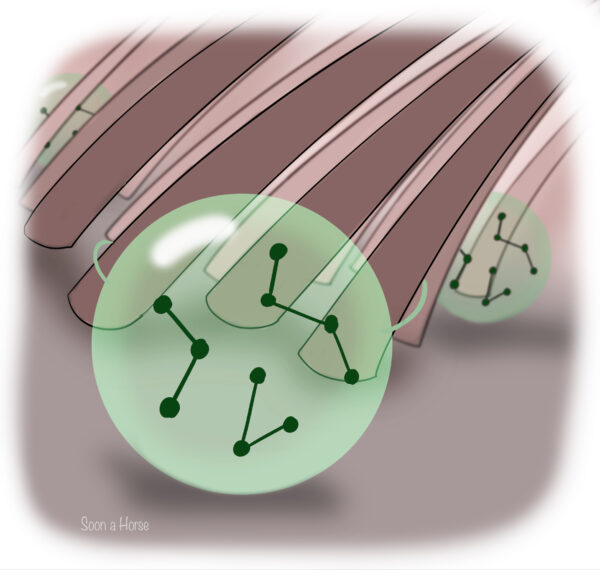 The microcapsule's membrane is porous. That allows the active ingredients to « sweat » through it. That makes Emouchine Total effective right from the moment when it is applied.
During the following hours, the capsules, firmly fixed on the horse's coat, will progressively dissolve thanks to the horse's movements. The two active ingredients contained in the microcapsules are thus progressively and continuously released.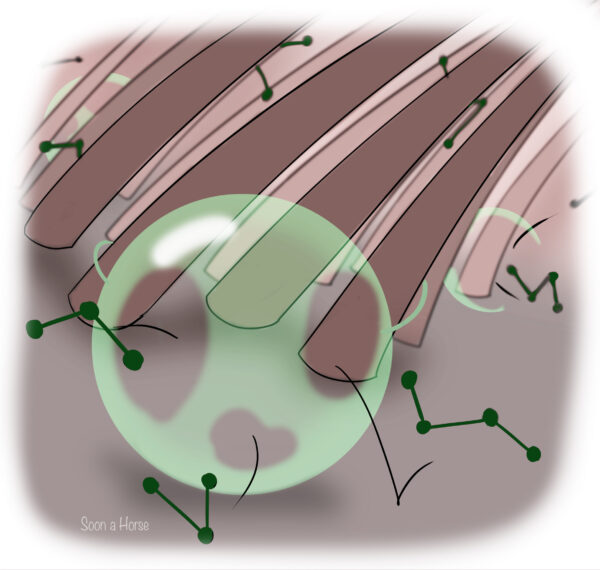 That way, you are sure to be spending a peaceful training session or trail ride with your horse, that is shielded against fly attacks on a long-time span!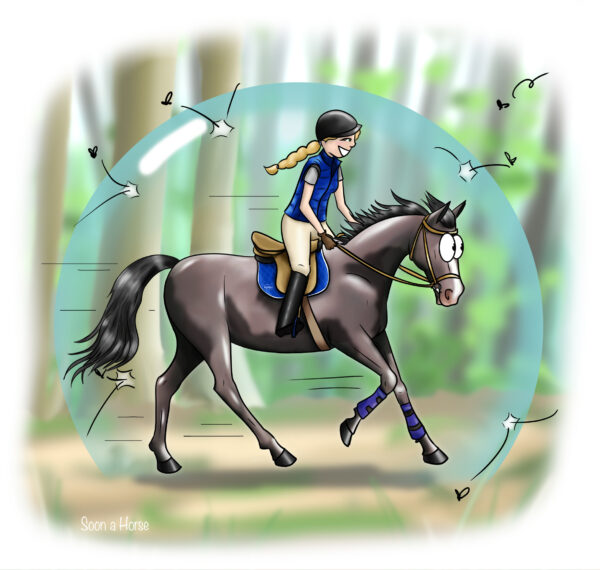 Back in the field or paddock, the capsules keep on releasing the active ingredients, and your horse remains protected.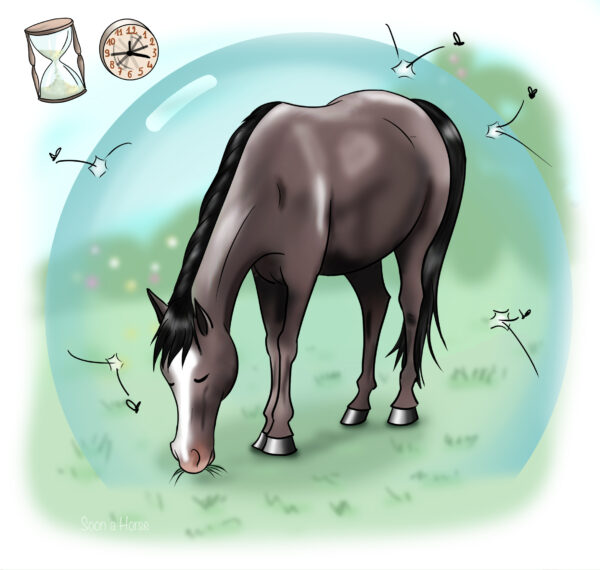 Our fly-repellent's remanence is six times higher than the one of a classical formula (without micro encapsulation) in which the active ingredients are immediately released.

Emouchine Total's new formula is available in 3 sizes:
The 450ml spray
The 900ml spray
The 2,7L refill
Emouchine Total is the fly repellent solution to effectively shield your horse against insects and spend a peaceful summer season!