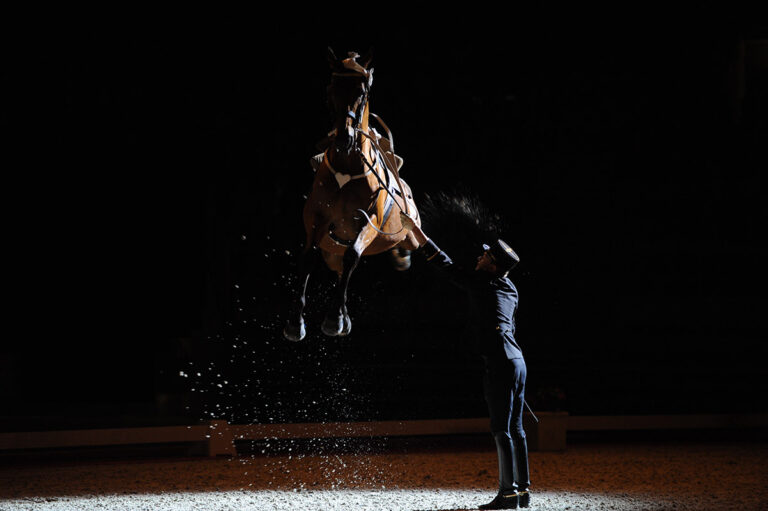 The Cadre Noir of Saumur
Forward, calm and upright.
In order to satisfy its concerns regarding the comfort and well-being of its horses, the Cadre Noir signed on an agreement with Laboratoires Audevard and its Ravene brand, end of 2019. Based around commonly shared values, both brands wanted to join forces with the Cadre Noir and provide their assistance to support horses through performance and in their daily horse life. In addition to their expertise and advice on horse health, 40 horses (20 gala event jumpers and 20 top class sports horses including the Olympic champion Qing du Briot) will benefit from Audevard and Ravene brand products all year round.
Both Audevard and Ravene are joining forces with the Cadre Noir to gather knowledge on horses well-being and also share it on social networks through articles related to the performance and well-being of horses written by experts (riders of the Cadre Noir, instructors, trainers, researchers…) as well as organising master-class days in Saumur.
2016 - RIO DE JANEIRO
Team gold in eventing with Thibaut Valette and Qing du Briot*IFCE
---
2004 - SYDNEY
Team gold in eventing with Arnaud Boiteau and Expo du Moulin as well as Didier Courrèges and Débat d'Estruval
---
1968 - MEXICO
Gold in eventing with Chief Warrant Officer Guyon and Pitou
---
1964 - TOKYO
Gold in show jumping with Pierre Jonquères d'Oriola and Lutteur B
---
1952 - HELSINKI
Gold in show jumping with Pierre Jonquères d'Oriola and Ali Baba
---
1948 - LONDRES
Gold in dressage with Commander Jean Saint Fort Paillard and Sous les Ceps
---
1936 - BERLIN
Silver in dressage with Lieutenant de Ballore and Débaucheur
---
1932 - LOS ANGELES
Gold in dressage with Commander Lesage and Taine
---
1924 - PARIS
Bronze in dressage with Commander Lesage and Plumard
---