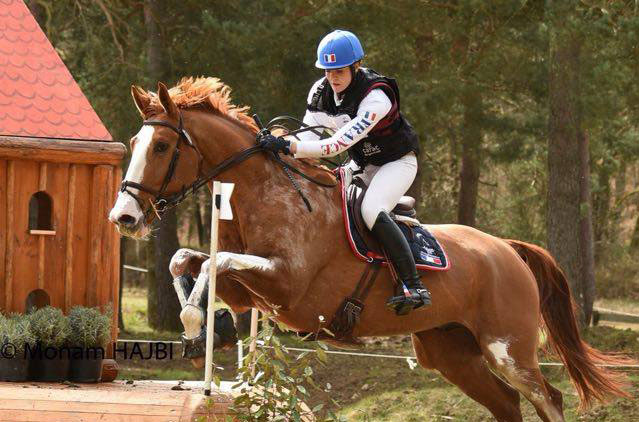 Soizic Lefevre
Eventing is in her blood!
A young eventing rider, Soizic has a promising future on the eventing courses. Since 2010, the young rider has enjoyed a series of great successes: French under 16s champion in 2010, French Cadets runner-up in 2012, European junior runner-up in 2013 and in 2015… She was also the sports ambassador for the Champagne-Ardene region in 2016! She currently races on the 2* circuit.
2010
French Junior Eventing Champion
---
2012
French Cadets Runner-up in Eventing
---
2013
European Junior Team Eventing Runner-up
---
2014
Bronze medal in the French Junior Eventing Championships as well as a bronze medal in the European Junior Team Championships.
---
January 2017
A quick health check for Soizic's two leading horses before the start of the season.
---
March 2017
A weekend of revival for Soizic & Saga in great form at Saumur in the Pro3: following a 3rd place in dressage with a score of 45.5 , 4 points in show jumping and a maximum in cross-country, they finished 2nd in the event!
---
September 2017
Soizic and Saga ranked 5th in the Pro 1 French Championships in Lamotte-Beuvron and 2nd in the Young Riders Grand Prix!
---
March 2018
This weekend involved a gallop on Deauville beach for Soizic and her horses to put the finishing touches to the preparation for Saumur and Tartas. Saga was happy being able to gallop on the beach and the newcomer Dacota was like a fish to water in the waves! The season will soon begin, the team are in the starting-blocks!!!
---
March 2018
A very good start to the season for Soizic & Saga in the Saumur Pro3. Saga is in great shape and although a little bit playful in dressage still managed a very nice recovery and finished with a double clear without pushing it in the cross-country to prepare for the CCI** in Tartas in just over two weeks! The pair finished 9th/50 in this "re-entry" competition!
---
October 2018
A silver medal for Soizic and Saga de Mai in the Master Pro, Pro 1 event in Lamotte Beuvron, holder of the AS Young Riders French Championship!
---
November 2018
First CIC3* for Soizic and Saga de Mai
---
June 2019
A big cheer to  Soizic Lefevre for winning the Pro 4  in Fontenay with her fine-looking horse Dacota who is only 6 years old! A promising pair.
---
July 2019
Soizic and her young and handsome Dacota are ranked in second place in the CCI1* at Jardy!!!
---