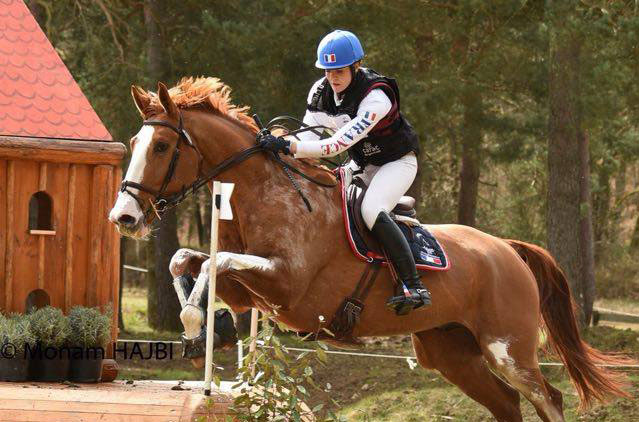 Soizic Lefevre
Eventing is in her blood!
A young eventing rider, Soizic has a promising future on the eventing scene. Since 2010, the young rider has enjoyed a series of great successes: French under 16s champion in 2010, French Cadets runner-up in 2012, European junior runner-up in 2013 and in 2015… She was also the sports ambassador for the Champagne-Ardenne region in 2016! She currently competes on the 2* circuit.
2010
French Junior Eventing Champion
---
2012
French Cadets Runner-up in Eventing
---
2013
European Junior Team Eventing Runner-up
---
2014
Bronze medal in the French Junior Eventing Championships as well as a bronze medal in the European Junior Team Championships.
---
January 2017
A quick health check for Soizic's two leading horses before the start of the season.
---
March 2017
An amazing weekend for Soizic & Saga: both are in great shape for the Saumur Pro3 class. Off to a good start thanks to their 3rd place in dressage with a score of 45.5, they get 4 points in show jumping but a "maxi" in cross-country. They manage to grab the 2nd place overall!
---
September 2017
Soizic and Saga ranked 5th in the Pro 1 French Championships in Lamotte-Beuvron and 2nd in the Young Riders Grand Prix!
---
March 2018
This weekend was all about galloping on the Deauville beach for Soizic and her horses to fine-tune the preparation for Saumur and Tartas. Saga was happy being able to gallop on the beach, and the newcomer Dacota was like a fish to water in the waves!
The season is about to start, the team is in the starting blocks!!!
---
March 2018
A very good start to the season for Soizic & Saga in the Saumur Pro3. Saga is in great shape and although a little bit playful in dressage still managed a very nice recovery and finished with a double clear without pushing it in the cross-country to prepare for the CCI** in Tartas in just over two weeks! The pair finished 9th/50 in this "re-entry" competition!
---
October 2018
A silver medal for Soizic and Saga de Mai in the Master Pro, Pro 1 event in Lamotte Beuvron, holder of the AS Young Riders French Championship!
---
November 2018
First CIC3* for Soizic and Saga de Mai
---
June 2019
A big cheer to  Soizic Lefevre for winning the Pro 4  in Fontenay with her fine-looking horse Dacota who is only 6 years old! A promising pair.
---
July 2019
Soizic and her young and handsome Dacota ranked second in the CCI1* at Jardy!!!
---