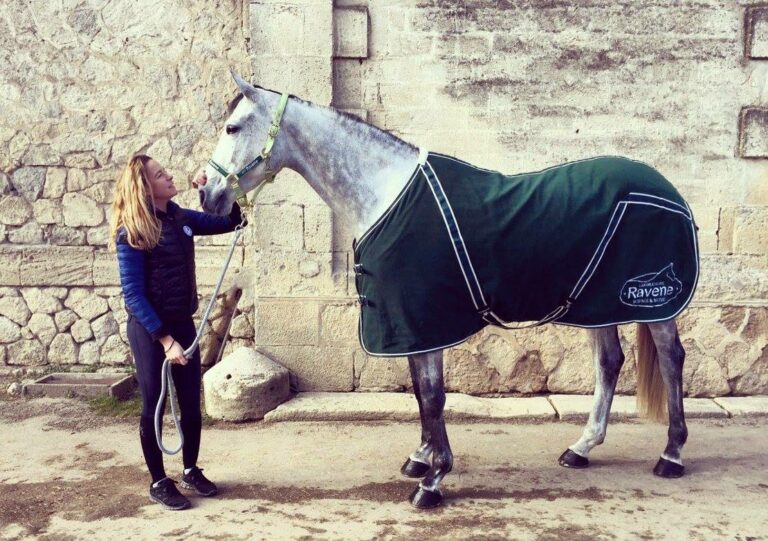 Marie Couperie
Château Bacon
Marie Couperie made her debut on a Shetland pony at 4 years old, at Château Bacon. At 8 years old, her grandmother gave her her first competition pony, Artiste, with whom she shared her first victories. She then moved on to horse riding and took part notably in the French Junior Championship with Flambeau d'Or. She then began Young Riders international competitions and was crowned champion of Aquitaine in 2006 with Marquis de Curzay. In 2013, she joined the Château Bacon stable with her aunt Virginie Couperie Eiffel and her father, Philippe. The Château Bacon society was founded by her grandmother "Ploplo" and her grandfather Emeric Coupérie, founder of the Jumping World Cup in Bordeaux. She then learnt how to prepare horses for competition. Today Marie is in charge of the "Paris Eiffel" Team competition in addition to being a professional horse rider and coach.
2013
Marie and Qualin at the Global Champions Tour in Chantilly
---
2014
Marie & Noah de Bacon at the Global Champions Tour in Valkenswaard
---
2014
Victory in the 6 bar event with Scoobydoo Gang at the Summer Grand Parquet equestrian stadium, Fontainebleau
---
2015
The French National Anthem for Marie and Bonny Bacon during the summer at Val Porée equestrian stadium in Dinard with Power
---
2016
Marie and Virginie Couperie reunited at the Paris Eiffel Jumping
---
2017
Photographic pose with Ange de Bacon!
---
Février 2017
3-week tour in Oliva Nova, Spain: here with Anibal de Bacon
---
Mars 2017
A part of the care routine is to apply Kinesyl on the legs of Donald de Bacon after jumping sessions at Château Bacon
---
Mai 2017
Marie & Donald de Bacon taking part in the Palace of Versailles International Show Jumping event
---
Mai 2017
Marie & Donald de Bacon came second in their event on Saturday at the Madrid Global Champions Tour!
---
Juillet 2017
Marie & Donald de Bacon at the Dinard International Show Jumping event
---
Février 2018
A day off for Marie Couperie Eiffel & Donald de Bacon relaxing at Oliva beach…
---