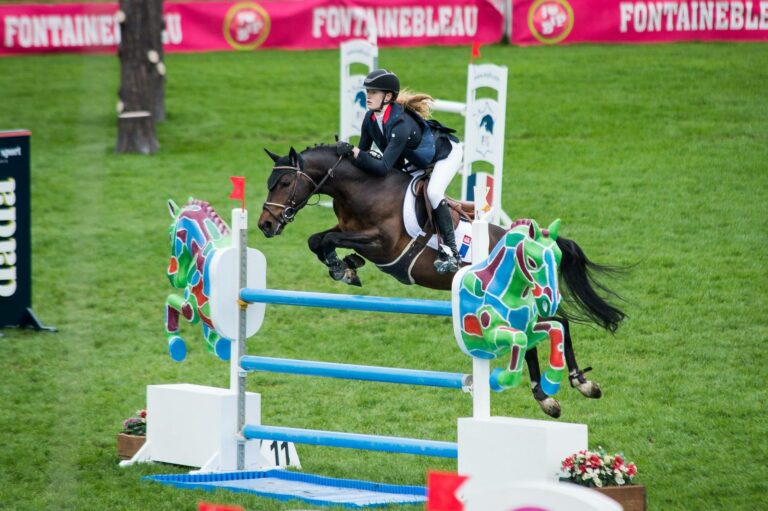 Louna Garo
Horses in her blood!
Aged 15, Louna began competing in show jumping on a Shetland pony, before embarking on a spectacular pony adventure, following the purchase of Tarzan. Louna also horse rides in parallel with her pony competition seasons. Full of energy and determination, Louna is able to combine her school life with her sports career perfectly.
2015
Louna wins the Amateur 2 Championship in Le Mans with Ravel des Temps, her mother's horse
---
2017
Louna wins the TDA in Reims with Ugo du Cyan, a home-grown pony!
---
March 2017
Louna wins the 135cm Grand Prix of the Barbizon CSI* with Pyramide Pironnière, her dad's mare!
---
June 2017
Louna joins the Childrens French team then competes in the Nations Cup in Hagen where the team finished in 3rd place on the podium!
---
November 2017
Louna and Tarzan came 6th in the World Cup Grand Prix at the Equita'Lyon horse show!
---
April 2018
Louna and Alto flying over the Fontainebleau BIP CSIOP in the Grand Parquet equestrian stadium!
---
April 2018, Nations Cup
A magnificent performance by Louna and her 3 team mates at the Fontainebleau BIP! France was awarded the Nations Cup!
---
April 2018
Louna and the fabulous Alto in the Nations Cup!
---
May 2018
Louna and Alto at the Fontainebleau CSIOP
---
July 2019
Louna at the Fontainebleau GRAND PRIX CLASSIC
---