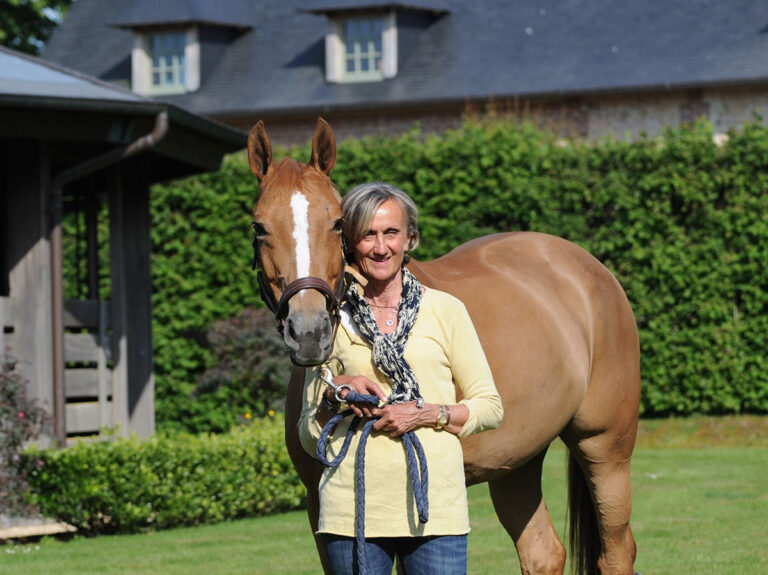 Haras de Clarbec
It is in Normandy, in the heart of Auge, the land of horses and more specifically breeding, that Haras de Clarbec is expanding its numerous activities. It is home to a top-level competition stable where Sultane des Ibis, winner of the Bordeaux Grand Prix CSI5*, is today the flagship. About twenty young horses aged from 4 – 7 years old fill the competition stable. Haras de Clarbec also has a dozen or so broodmares selected for their origins and athletic performances at the highest level in the world. Moreover, Haras has developed a breeding business with about twenty stallions in the catalogue including the renowned Vagabond de la Pomme, Emerald, Casallo Z, Don VHP Z, Topinambour…
Geneviève Mégret, an iconic figure for equestrian sports
Represented by Geneviève Mégret, Haras de Clarbec demonstrates her passion for high-level sport, and above all horses. A horse-lover at heart and a high level show jumper, Geneviève is now an iconic figure in the equestrian world. She is the owner of many horses that have progressed to the highest level, including the horses of one of our ambassadors: Camille Condé Ferreira (Air Force Gem, Varenta Gem, Chiara Gem, Egerie du Val de Geer, Corrado du Moulin).
"I feel very strongly about the well-being of my horses. I am therefore delighted with this partnership with Ravene which seeks to develop a wide range of products and equipment to improve the everyday quality of life of horses while striving for athletic performance. Sharing your values is a very exciting challenge!" Geneviève Mégret.
A trio unified by shared values
This collaboration strengthens the relationships between Laboratoire Ravene and its ambassadors by directly including the owner of these exceptional horses. The "Healthcare partner – Rider – Owner" exchanges promise wonderful moments of sharing around one common purpose: the well-being of horses.
Laboratoire Ravene places horses at the heart of its activities and aims to protect their daily well-being and serenity, through formulas developed by experts and practical and easy-to-use products, in order to preserve the wonderful Human-Horse relationship. With a cosmetic range, an insect repellent range, foot care and maintenance, food supplements and external care… the horses at Haras de Clarbec will benefit from the entire Ravene range to take care of them in their daily care.
"Our products are intended for all types of horses, whether they are young or old, sport or recreational horses… We are extremely attentive to the feedback from our users and continuously develop our range to best meet their needs. Moreover, exchanging with riders and owners performing at the highest level allows us to benefit from their expertise which we naturally take into account in our research and considerations. It's exciting! Moreover, accompanying Camille Condé-Ferreira for many years, then recently Olivier Robert, we are very moved to now welcome Geneviève Mégret to Team Ravene. I find this trio unified around the well-being of horses truly wonderful!" Amélie Henry, Ravene brand manager.
The whole Ravene team would like to thank Geneviève Mégret and Haras de Clarbec for their trust.
Memories from the 1993 French Championships...
Thanks to Geneviève for this superb memory with her "champion mare" Quirielle du Riou at the 1993 French Championships
---
Spring/summer 2020
Haras de Clarbec foals 2020
---
Spring/summer 2020
Haras de Clarbec foals 2020
---
Spring/summer 2020
Haras de Clarbec foals 2020
---
July 2020 - Canteleu
What a pleasure to receive this type of photo! Part of Team Ravene: Geneviève Mégret accompanied by Camille Condé-Ferreira and Olivier Robert.
---
September 2020
The International Happy Jump event in Canteleu bringing together three of our Ravene ambassadors.
We are delighted to see Camille, Alexandra & Geneviève together!
Our two riders had no demerits and had very promising rounds with their respective horses!
Geneviève Mégret is the owner of Corrado du Moulin, who competed under the saddle of Camille last weekend and finished clear in the 1.50 m event.
---