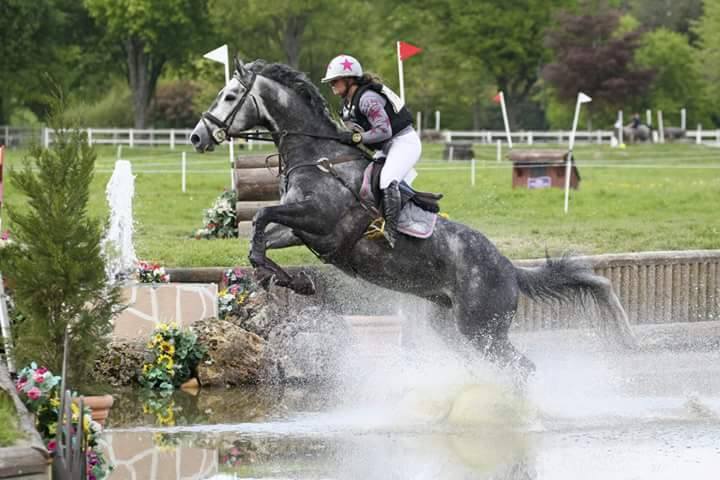 Gaëlle Jonchery
Talent, ambition, discipline!
Passionate from an early age, Gaëlle began competing at a young age on a Shetland pony. In 2011, Gaëlle acquired a young 4 year old KWPN gelding that she took to CIC** level. She is currently performing with this same horse in Eventing, as well as Show Jumping, Dressage and Hunter. Talented and ambitious, this young rider has not finished surprising us in all of these disciplines…!
2002
First appearance in the French Championships, in Lamotte Beuvron, on a Shetland pony! Gaëlle was just 12 years old.
---
2008
In competition with her pony, Hoasis
---
2011
Hunter award ceremony at the French Championships in Lamotte Beuvron, with Lolita d'Izartxo
---
September 2011
Acquisition of Chup a Chup SB, here at 4 years old in training with Didier Dhennin in Saumur.
---
2012
3rd place in the final for 5-year old horses at Pompadour (Eventing)
---
2013
3rd in the final for 6-year old horses at Pompadour (Awarded each time)
Show jumping: Clear rounds in the 110 cm and 115 cm preliminary events
---
2014
5th place at the Fontainebleau Amateur Elite Meeting des Propriétaires
Winner of Amateur Elite Eventing, Sandillon
CIC* Lignières-en-Berry
Show jumping up to 125 cm
Hunter class: 120 cm
---
2015
CCI* Crazy Ride, Fontainebleau
Winner of the Amateur Elite Eventing, Mourmelon
Regional runner-up in hunter at Jardy
CCI* Haras du Pin
8th place in the "Enseignants" Championships in Eventing, Saumur
6th place 120 cm and 125 cm GP, Liverdy
5th in Amateur Elite Eventing, Mourmelon
19th place in the CIC* at Jardy
6th at Vernoil in Elite Eventing
3rd at Sandillon in Elite Eventing
---
2016
Training of the young Balzac de Belebat
Show Jumping: Amateur Elite Pro2
Winner of Amateur 1 Dressage
(13) Runner-up in the Amateur Elite French National Hunter Championship at Lamotte Beuvron
7th in the Top of Creif, Paris Horse Show, Amateur Elite 130 cm
---
2017
A very good start to the Pro3 season! Not long for Pro2…!
---
May 2017
A magnificent 5th place for their first CIC**!!!
---
June 2017
Gaëlle & Chup a Chup in the CIC** at the Royal Jump de Bertichères. They had a very good performance for a second event at this level!
---
Septembre 2017
Gaëlle & Chup a Chup take 22nd place in the Pro2 French Championship at Lamotte Beuvron! Well done to both of you starting at this competition level!
---
March 2018
Gaëlle & Chup a Chup were in training at the Ecuries du bois de la noue stables last Thursday through the Val-d'Oise department equestrian Committee (CDEVO) with Stanislas de Zuchowicz, an international ***/**** eventing rider with multiple performances in the European and World championships.
Working on Chup's quality of balance on a small fixed obstacle course.
A short message from Gaëlle: "As always, a big thank you to Ravene for the physical support that their products bring to horses"
---
April 2018
Start of the season in Mourmelon. A maximum double clear for the pair!
---
October 2018
Gaëlle and Chup a Chup become French Champions in Lamotte, at the National des enseignants!
---
July 2019
Bronze medal for Gaëlle and Chup a Chup at the French Championships in Hunter elite, in Compiègne!
---