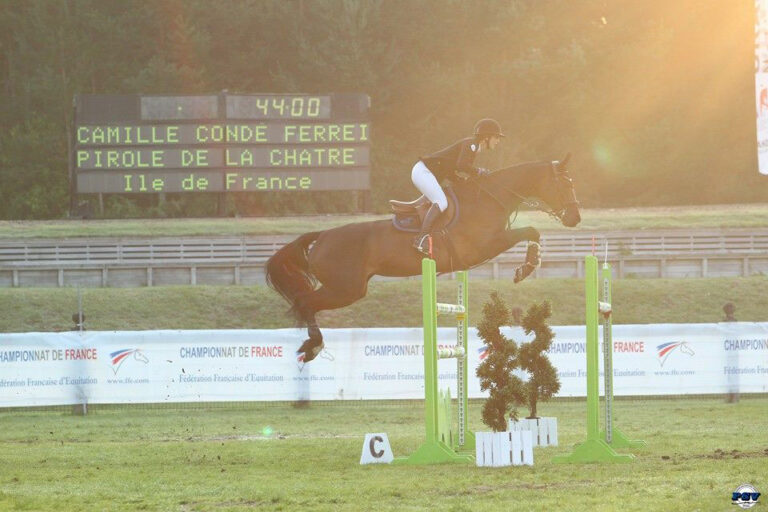 Camille Condé Ferreira
A promising future!
A real star of the pony circuit, Camille continues her wonderful career on horseback, accompanied by new promising horses, in collaboration with Haras de Clarbec. We are so proud to follow Camille's journey for many years now!
2012
Camille was runner up in the Children's World Championship in Mexico and French runner up in the Grand Prix Excellence with Pumkis Pondi
---
2013
Camille was crowned Children's European Champion in Spain with a team and individual bronze medal with Pirole de la Chatre.
---
2015
Camille is crowned Junior European Champion with Pirole de la Chatre!
---
May 2017
Camille & Venise de Gravelotte sign off on a splendid round with 4 points in the Barbizon 130 cm!
---
July 2017
Double clear and 4th place for Valgo des Félines and his rider at La Baule Jumping Show!
---
May 2018
A magnificent declaration of love by Camille for her champion Pirole, on her sporting retirement:
"If I had to write a book, it would be called PIROLE DE LA CHATRE
5 exceptional years by your side.
This wonderful adventure began in January 2013 thanks to your owner Cathy who let me get to know you, after your training under the saddle of Berenger Oudin.
Your little character quickly made you the princess of my stables, MY princess, my princess with a big heart.
A heart you gave me so many times in the arena. You always gave me all you had. Thanks to you, I was able to compete under the French flag. Together we climbed the ladder, from Children to Young Riders.
Winning great team victories, we have taken part in 11 Nations Cups, won CSIO Junior Grand Prix as well as our victories in 2* when I was just 16 years old. That same year you gave me the double title of French and European Champion and I have not forgotten of course the following year, the silver medal in the same European Championship.
Together we have competed in 5 European Children and Young Riders Championships, won 4 European medals and no less than 6 French Championships. I will never forget the wonderful arenas that we have set foot on together such as the Saut Hermès, the Longines Masters in Paris, La Baule and this year Bercy… If I were to talk about everything, you would have your own book my Pirole.
I wish I could bid you farewell worthy of great champions, but I admit that I am selfishly saving this moment as it's time for you to go and enjoy Normandy's green pastures. At last, the decision that we were all anticipating has come. In about a month, you are going to go and have babies which I am sure will live up to their mum. The final cover of our book closes now on all these wonderful memories.
Thank you for everything my "Piron D'amour""
---
July 2018
Camille takes the bronze medal at the Young Riders French Championships, accompanied by her powerful Titan des Félines! Very emotional!
---
August 2018
Visit from the Ravene team with Camille!
---
December 2018
Camille and Valgo des Félines came 8th after a double clear in the Grand Prix 2* of the Longines Masters Paris!
Photo credit: Jessica Rodriguez
---
April 2019
MasterClass led by Camille at her own stables, co-organised by Ravene and the French equestrian magazine Cheval Pratique !
---
Juin 2019
8th place in the Chasse event in Fontainebleau at the Riders French Championship for Camille and her princess Varenta GEM!
Photo credit: Haras de Clarbec 
---