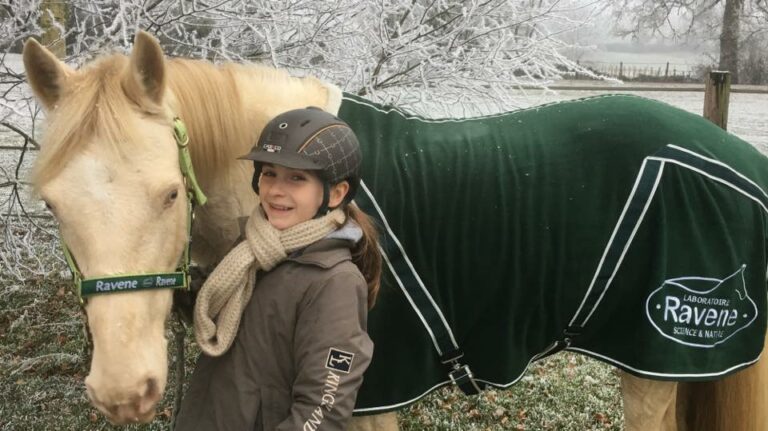 Audrey Georget
Youngest Ravene Team member!
At just 12 years old, Audrey is Team Ravene's youngest recruit . In the saddle since the age of 3, she began competing in 2013. She will progress this year to P1/P élite accompanied by Twin Blue.
2013
Bronze medal at the Normandy Regional Championship and silver medal at the Orne Department Championship. A1 French Team Championship: 10th/68.
---
2014
Orne Champion and Normandy Champion in P3B, Department Champion in P2B. French Team Championship in P3D: 7th/64.
---
2015
13th/95 at the French Championships in P1D, 2nd rider in her category, Ile de France.
---
2016
13 clear rounds in P2, 2nd in the Haras du Pin TDA, French Championship in P2.
---
August 2016
First competition with her new partner: Twin Blue
---
January 2017
A superb start to the 2017 season with a victory in the P1 of the TDA in Le Mans followed by a magnificent clear round and 12th place for their first ever P élite TDA in Saint-Lo.
---
July 2017
FRENCH CHAMPIONSHIPS
P ELITE EXCELLENCE
After an initial clear round, Audrey & Twin Blue signed off on a second round with 4 points, an excellent round with the best time for 4 points! The youngest couple in Team Ravene finished in 38th place / 104 in this first championship together.
A great season which ended in style! A moment of rest now for Twin before tackling the AS 2 next season…
---
August 2017
A moment of rest for Twin Blue! On the agenda: games, hugs, unlimited grass, and above all plenty of HAPPY SWEET treats!!!
---
October 2017
Audrey and Twin Blue on their first ever AS pony 2 D Grand Prix!
---
March 2018
A wonderful clear round with Twin Blue at the Republican Guard…
---
March 2018
And with her new horse, Very Gold, as well!
---
May 2018
Another great clear round at Val-de-Reuil for Audrey and Very Gold, a couple in the making getting to know each other.
---
July 2018
The last French Championships for Twin Blue and Audrey!
---
May 2019
Audrey and Very Gold repeat their ranges and do a series of good rounds!
---
June 2019
Audrey Georget & Very Gold are in the big league! Now very comfortable at this competition level, they had a clear round in the Haras du Pin 110 cm preliminary event followed by 4 points in the Grand Prix resulting from a magnificent round!
Next point of call for them: 115 cm preliminary event at the Boulerie jump in Le Mans.
What a pleasure for the Ravene team to see Audrey's progress, having followed her since her pony debut!
---
July 2020
Audrey & Very Gold often wear their My Ravene outfit with pride.
---