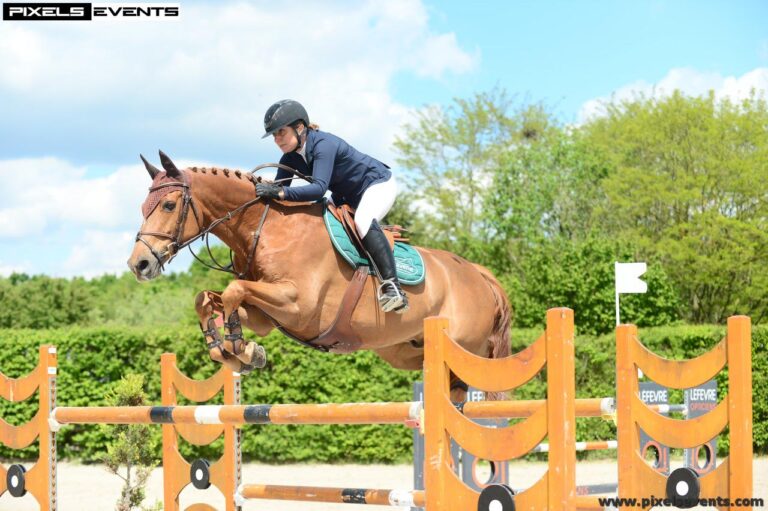 Alexandra Ledermann
The patron of Ravene
A world-famous show jumper, with no need for introductions, Alexandra Ledermann scored a bronze medal at Atlanta's Olympic Games with the great Rochet M.
Much more than an ambassador, Alexandra Ledermann is the patron of Laboratoire Ravene.
1989
Young Riders Team European Champion with Punition.
---
1995
Team bronze medal winner at the St-Gallen European Championships
---
1996
Individual bronze medal winner at the Olympic Games in Atlanta with Rochet M.
---
1998
Team silver medal winner at the World Equestrian Games in Rome, with Rochet M.
---
1999
Individual European Champion at Hickstead with Rochet M.
---
2017
Nowadays Alexandra Ledermann competes on the Grand National circuit wearing the Ravene colours, with her fine chestnut Requiem.
---
Mars 2017
Alexandra & Requiem de Talma in Royan
---
Février 2018
Ravene training course, led by our patron, Alexandra Ledermann, at Haras de Lyons
---
November 2018
Two members of the Ravene Team at Le Mans Grand National! 110cm for Audrey and 150cm for Alexandra!
---
January 2019
2nd edition of the Ravene training course led by Alexandra at Haras de Lyons.
A great weekend, rich in learning, sharing and sport! The couples leave with plenty of advice to start their competition season on the right foot.
---
June 2019
A well-earned 4th place in the Canteleu Grand Prix 145 for our patron Alexandra Ledermann and her great Requiem de Talma, representing Ravene!
---