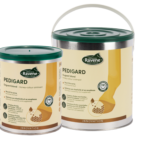 PEDIGARD HONEY COLOUR OINTMENT
Nourrishes and optimizes the elasticity of the hoof
16.96 €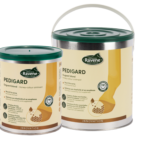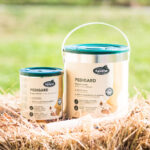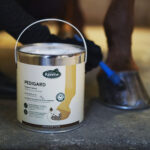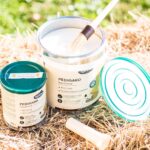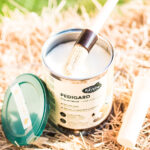 PEDIGARD HONEY COLOUR OINTMENT
(En achetant ce produit vous cumulez : 85 sur MyRavene )
Nourrishes and optimizes the elasticity of the hoof
The hoof is a protective sheath for the internal structures of the foot of a horse. The wall consists of a rigid horn which retains a certain flexibility and mobility essential for shock absorption. During the summer season or in the event of a dry foot, it is necessary to provide it with elements optimizing its elasticity.
PEDIGARD Honey-colour Ointment is a complex of nourishing oils combined with essential oils and beeswax. Rapeseed oil, rich in omega 3 and vitamin E gives it nourishing and antioxidant properties. Highly penetrative Macadamia oil softens the horn deeply. Its composition of fatty acids, similar to sebum, has a moisturising effect. Beeswax is rich in vitamin A and its waterproofing effect retains water in the foot. Deeply moisturised, the foot regains all of its biomechanical properties.
Livraison

OFFERTE

 dès 49€ d'achats

Paiement sécurisé
Conseils & Mode d'emploi
PEDIGARD HONEY COLOUR OINTMENT
Mode d'emploi
Apply PEDIGARD Honey-colour ointment to the outer wall of the foot during your daily care. You can also apply it to the sole and frog so long as they are perfectly dry and healthy. Close tightly after use.
It is possible to split the care of the top (outer wall) and bottom (sole and frog) of the foot, and even highly advised in some cases. In the event of even slight alterations or excessive moisture on the sole and frog, it is best to apply PEDIFLEX fluid oil. The latter revitalises the horn, while allowing moisture to escape. If the frogs are too damaged, apply PEDICADE to the frogs and heel bulbs.
Composition
PETROLATUM, PARAFFIN, CERA ALBA, MACADAMIA INTEGRIFOLIA SEED OIL, BRASSICA CAMPESTRIS SEED OIL, LAURUS NOBILIS OIL, EUGENIA CARYOPHYLLUS OIL