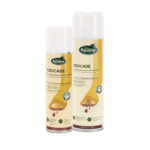 PEDICADE
Repair care for the frog
17.8 €
PEDICADE
(En achetant ce produit vous cumulez : 90 sur MyRavene )
Repair care for the frog
"No feet, no horse!"
The feet of your horse are subject to weather conditions and the nature of the land on which it performs. In wet weather, the horn can become soft and damaged. It is necessary to act quickly!
PEDICADE dries and cleanses the frog. It is then revitalised, resistant and regains its natural shock absorbing ability.
The aerosol makes application of PEDICADE quick and convenient. The product can be introduced into the smallest cavities of the frog without ever staining your hands.
Livraison

OFFERTE

 dès 49€ d'achats

Paiement sécurisé
Conseils & Mode d'emploi
PEDICADE
Mode d'emploi
For frogs that are damaged, soft or with an unpleasant odour during wet weather, apply PEDICADE every day for one week, then space the applications. As preventive care, apply PEDICADE once a week to the frogs to preserve their integrity. PEDICADE can be applied to wet and damaged frogs (unlike tar which must only be applied to dry and healthy frogs!)
Composition
DIMETHYL ETHER, ALCOHOL DENAT., JUNIPERUS OXYCEDRUS WOOD TAR, EUCALYPTUS GLOBULUS LEAF OIL, (ROSMARINUS OFFICINALIS LEAF OIL/ ROSMARINUS OFFICINALIS FLOWER OIL), THYMUS VULGARIS FLOWER/LEAF OIL, MELALEUCA ALTERNIFOLIA LEAF OIL.