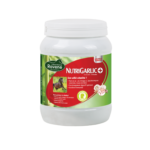 NUTRIGARLIC +
Garlic: all in one!
19.95 €
NUTRIGARLIC +
(En achetant ce produit vous cumulez : 100 sur MyRavene )
Garlic: all in one!
NUTRIGARLIC+'s unique formula combines the benefits of all natural products often used to improve the general condition and shape of horses.
In fact, garlic, prebiotics and cod liver oil contain elements that help to improve nutritional balance, beauty of the skin appendages and many other benefits…
In NUTRIGARLIC+, the essential fractions of these ingredients have been extracted and concentrated so that your horse benefits from all their richness thanks to a single dose per day.
Ce produit s'il est ouvert ou descellé à la livraison ne pourra être retourné.
Livraison

OFFERTE

 dès 49€ d'achats

Paiement sécurisé
Conseils & Mode d'emploi
NUTRIGARLIC +
Mode d'emploi
NutriGarlic + is presented in the form of tasty pellets. Mix up to 30 g (1 scoop) per day for 1 month into the daily ration of your horse. Repeat 3 times a year.
NutriGarlic + contains no doping ingredients.
Composition
Composition: lithothamnium, micronised garlic 100 g/kg, micronised alfalfa, sugar beet molasses, brewer's yeast 20g/kg, linseed 20g/kg, fish proteolysate 1g/kg
Additives: – 4a- Digestibility enhancers: 4b1702 Saccharomyces cerevisiae – CNCM I-4407 3×1011 CFU/kg.
Analytical constituents: moisture < 10 %, crude ash 68 %, calcium 24 %, sodium 0.1 %, phosphorus 0.2 %, crude protein 4%, crude fat 0.3%, crude fibre 3%, magnesium 2%, total sugar 4%
Ils ont testé
Avant
Après