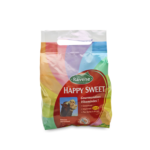 HAPPY SWEET
Energizing sweets !
5.15 €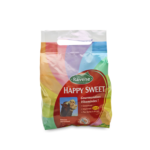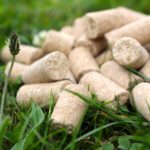 HAPPY SWEET
(En achetant ce produit vous cumulez : 25 sur MyRavene )
Energizing sweets !
Your horse deserves the best treats. That's why Happy Sweet offers the best of nutritious foods in the form of tasty and easy-to-digest sweets.
Happy Sweet treats are full of vitamins and convenient to give thanks to their long cylindrical shape!
The treats have a very pleasant aroma and do not crumble.
Ce produit s'il est ouvert ou descellé à la livraison ne pourra être retourné.
Livraison

OFFERTE

 dès 49€ d'achats

Paiement sécurisé
Conseils & Mode d'emploi
HAPPY SWEET
Mode d'emploi
Take a sweet and hold out your hand flat to give it to the horse. Reseal the bag tightly and keep away from heat and moisture.
Composition
Wheat, Barley, Corn, Lucerne, Syrup, Dextrose , Wheat our, Milk poder, Linseeds, Soya, Salt, Magnesium oxide, Aroma. Additives (/kg): -2a – Aromatic
substances: Rosmarinus o cinalis 21mg, -2b – Vitamin, Provitamin, Substances with similar e ect: E672 Vitamin A 21 000 UI, E671 Vitamin D3 3750 UI, E306 Vitamin E 330 UI, -3b – Trace element: E1 Iron 276mg, E6 Zinc (Oxide) 207mg, E5 Manganese (Oxide) 93mg, E4 Copper 38mg, E2 Iodine 1,7mg, 3b302 Cobalt 1,7mg, E8 Selenium 0,5mg, – Technological: Fruit aroma 1000 mg. Analytical constituents: Humidity < 10 %, Raw proteins 10 %, Raw fats 3,2 %, Raw ashes 7,2 %, Raw cellulose 3,6 %, sodium 0,6%. This product contains some cobalt, protective measures should be taken to avoid the exposure to the cobalt by inhalation and dermic way.