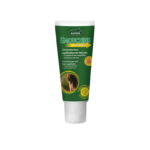 EMOUCHINE PROTEC TUBE
Silent application!
9.95 €
EMOUCHINE PROTEC TUBE
(En achetant ce produit vous cumulez : 50 sur MyRavene )
Silent application!
Is your horse is anxious and sensitive? Protecting your horse quickly becomes a real headache if it can't stand the noise of the spray.
So that the pampering moments remain above all a pleasure for you and your horse, Ravene offers you an alternative to the spray. Emouchine Protec is a complex of essential oils in gel form.
It is available in two formats: this one is the tube format with a foam tip for a very precise application on your horse's head (around the eyes, nostrils, etc.). Its pocket size makes it practical to carry, so that you can take it with you on all your strolls during the summer season!
Emouchine Protec is also available in these formats:
– 500 ml jar with a sponge to cover your horse's entire body.
– 250 ml tube for delicate application by hand.
Livraison

OFFERTE

 dès 49€ d'achats

Paiement sécurisé
Conseils & Mode d'emploi
EMOUCHINE PROTEC TUBE
Mode d'emploi
Apply Emouchine Protec daily to the targeted areas, using the foam tip.
Composition
Glycerin, peppermint (Essential Oil), eucalyptus citriodora (Essential Oil), Ylang Ylang (Essential Oil)