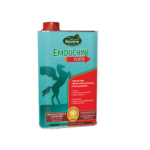 16.96 €
EMOUCHINE FORTE
(En achetant ce produit vous cumulez : 85 sur MyRavene )
Cade Oil
Discover the new concentrated Emouchine Forte formula, based on juniper oil!
Cade oil has a calming effect on horses in the summer season. Emouchine Forte's homogeneous formula dissolves well, which makes its application very easy and its persistent odour resists even water and sweat.
Now available in your country!
Ce produit s'il est ouvert ou descellé à la livraison ne pourra être retourné.
Livraison

OFFERTE

 dès 49€ d'achats

Paiement sécurisé
Conseils & Mode d'emploi
EMOUCHINE FORTE
Mode d'emploi
Apply diluted to the horse (recommended rate = 1 part with 5 parts water) or undiluted to equipment (shelters, stables, etc.).
This product may stain.
Composition
Cade oil, excipients q.s. 100%.