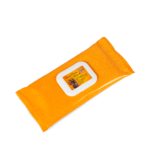 EASY CLEAN WIPE
Powerful cleaning solution!
6.77 €
EASY CLEAN WIPE
(En achetant ce produit vous cumulez : 35 sur MyRavene )
Powerful cleaning solution!
Easy Clean Wipe are wipes soaked in a powerful cleaning solution which eliminate most dirt. The solution is enriched with antioxidising vitamin E and moisturising Aloe Vera. Wipes are a modern method for cleaning leathers quickly, without water and soap. Simply rub the wipe on the item to be cleaned, until the dirt disappears and leave to dry.
Ce produit s'il est ouvert ou descellé à la livraison ne pourra être retourné.
Livraison

OFFERTE

 dès 49€ d'achats

Paiement sécurisé
Conseils & Mode d'emploi
EASY CLEAN WIPE
Mode d'emploi
Rub the wipe over the zones to be cleaned. Do not rinse. Leave uncovered to dry. Close tightly after use.
Composition
Composed of less than 5% of non ionic surfactants, preservatives: 2-BROMO-2-NITROPROPANE-1,3DIOL
Caution: keep tag or recipient in case of a need in medical advice. Keep out of reach of children. Thoroughly read and apply instructions for use.