BIODYNE
Biotin enhanced action
29.9 €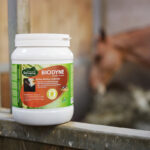 BIODYNE
(En achetant ce produit vous cumulez : 150 sur MyRavene )
Biotin enhanced action
The foot of your horse is exposed to many external stresses: moisture from bedding, abrasive ground, shocks during training… Consequently, it is essential to help your horse by regularly maintaining its feet.
Formulated by our experts, BIODYNE contains D-Biotin, Methionine, Zinc and Copper which promotes the growth of the horn and resilience of the hoof. BIODYNE provides 20 mg of pure Biotin per day, the amount needed to effectively protect the hoof.
The elements contained in BIODYNE also contribute to the health and beauty of the hair, and give the coat of your horse a perfect shine. With BIODYNE, you are assured of a clean and healthy foot. No more brittle hoofs or soft frogs!
Ce produit s'il est ouvert ou descellé à la livraison ne pourra être retourné.
Livraison

OFFERTE

 dès 49€ d'achats

Paiement sécurisé
Conseils & Mode d'emploi
BIODYNE
Mode d'emploi
BIODYNE is presented in the form of tasty pellets. Mix up to 30 g (1 scoop included) into the daily ration of your horse for 1 month. Repeat 3 times a year. We recommend combining the action of BIODYNE with PEDIFLEX (liquid ointment), for the protection of the hooves of your horse both inside and out.
Composition
Microfine wheat, microfine soya, calcium carbonate, sugar beet molasses, lithothamnion, microfine carob, fucus