Whether it is for a show, a beach hack or maybe even moving… being able to drive your horse easily is necessary!
That is why today, I will give you some of my best tips to help you in the preparation of your next horse transportation 😉
Indeed, if you want to limit the amount of stress generated both for you and your horse, you must get thoroughly organized before the departure.
Vehicle checkup
It all starts with a proper checkup of the chosen transportation vehicle. It is the most important step of the preparation, in order to hit the road with a clear mind.
You thus can check (or ask someone from your entourage) the general state of the trailer and towing vehicle or horse truck, both outside and inside (horse area). Be very careful with regards to the following key points:
– Refuel and check the engine fluid levels
–         Monitor tire pressure
–         Inspect the state of the ramp and flooring
–         Inspect tie rings inside and outside
–          Check the presence of the vehicle(s)' legal papers
Once you have verified these elements, you can hook the trailer to the towing vehicle. Don't forget to check that the driving lights are well plugged.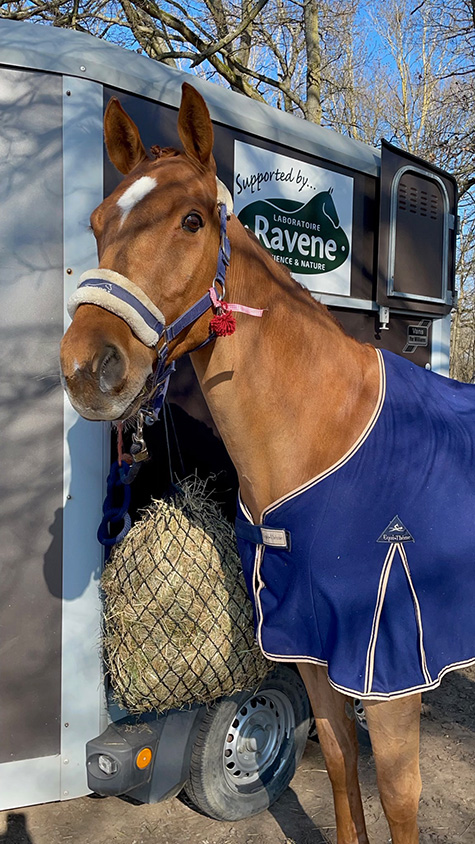 To avoid forgetting anything: tack preparation
You can now think about the preparation of all the needed tack. This will allow you to -hopefully- not forget anything. That is always annoying, especially if you are off to a show!
Fill a hay bag that you already can place inside. It is also at that time that you can get the inside of the truck or trailer ready and, if needed, put some straw or shavings on the floor.
Also think about packing the essentials, to be able to provide water during and after the drive – especially during long trips or high temperatures.
Key elements not to forget:
– Your horse's documents
– A spare halter
– One or two buckets (more if needed)
– You and your horse's equipment
Horse prep
Now that your vehicle is ready, and your equipment packed… here comes your horse's preparation.
First things first, before even considering traveling with your horse, and to avoid any trouble on the due day, it is mandatory to ensure that he/she will accept the ultimate test of boarding on the trailer/horse truck!
If it's not already the case, start desensitizing your horse a few weeks before so that he'll be all set, in due time.
That way you can get Tornado ready peacefully on the chosen transport day, and put on suited transport protections: travel boots, tail protector, and even a neck pull guard depending on horses. If you are using shorter shipping boots or bandages, you can combine them with the use of bell/overreach boots.
When travelling
During the trip, make sure you drive smoothly. That will only make your horse's experience more enjoyable as it will be able to manage its balance more easily.
If the drive is long, do not hesitate to stop every 4 hours in an area suited to do so, to check that everything is going fine for your horse and give him water.
After the trip
Once you have arrived, you can take off the travel protections and make your horse walk a bit. This will allow you to check that he did not get hurt during the drive. You also may give him a massage if you notice leg swelling and/or apply clay. Always offer a bucket of water to drink.
Help please! I have an anxious horse!
If your horse gets easily stressed out, particularly when it comes to getting in the trailer/horse truck and traveling inside it, the first thing is to carry out desensitizing work, for instance by doing short trips on a regular basis.
You also can combine this to the use of a Becool Flash a few hours prior to the drive, to help your horse to relax.
Thank you for reading,
Lilas