A top horse's winter season's organization can vary, according to the competition discipline and level.
Winter times, a different pace according to the high-level horse's discipline
An intense period for indoor shows
A showjumping horse competing in indoor events is going to be in its peak season, as indoor shows mainly take place during winter.
For instance, the World Cup stages usually start in October, and the final is held in April. For top horses competing at this show level, the winter season is intense.
A winter break for outdoor shows
When it comes to horses that usually compete in outdoor arenas, winter is the perfect time for them to take a break from shows. The winter break is necessary for our horses to "get some rest".
At the beginning of this period, we show down the training frequency, and we can also take this opportunity to do a one or two weeks long walk only period so that they rest. This break must be the chance to do all proper healthcare checkups such as dentistry, osteopathy, or proceed with in depth vet care that require a break.
For those lucky enough to be located near the ocean or sea, walking the horses in the water is the perfect way to massage the horse's legs while getting their minds some fresh air.
As we are so lucky to have our stables based an hour away from the Arcachon Bay, we love to go walk our horses there.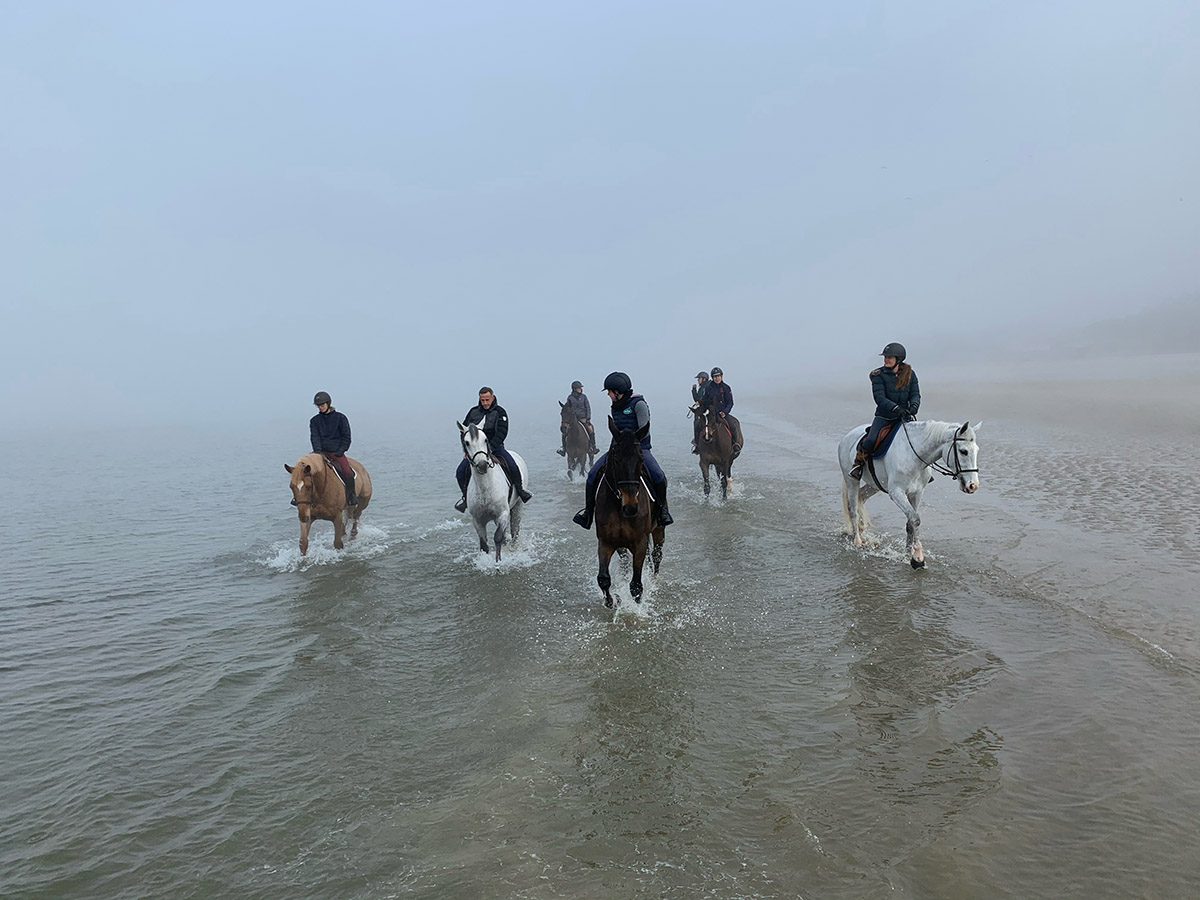 Slowly getting back to work after winter times
After this small break, we are slowly getting back to training, first with groundwork for two to three weeks. We can start to jump small and do gymnastics exercises by laying poles on the ground, then slowly get back to more intense training.
Winter also is the time to deal with technical issues that we might encounter during shows.
Winter is a season that is dreaded by some as the weather isn't always in our favor.  At some level, starting January, we are lucky to have shows taking place in countries with a more favorable climate. The tours in Spain and Portugal have a large success as they allow riders to go back to showing early and often offer ideal show services (multiple arenas, warm-up, multiple week-long shows eat different levels).